---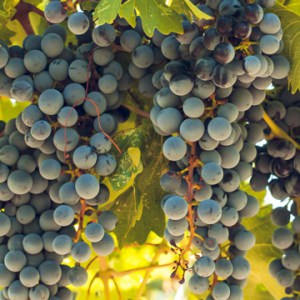 Type of Wine: Full bodied red with moderate acidity and high tannins.
Origin: Petit Verdot is planted sporadically throughout the Bordeaux region in France with the highest concentration being in the St. Emilion district. This rarely found variety is typically the last harvested grape in the vineyard, sometimes as much as two weeks after Cabernet Sauvignon. It is a difficult grape to grow: in many vineyards, the grape rarely achieves full maturity and is vulnerable to an early fall frost. Petit Verdot is almost universally used as a blending grape and seldom accounts for more than 10% of any proportion.
Color: Petit Verdot wines are similar to the color, fragrance and flavor of Syrah, which is a deep intense reddish-purple. Even connoisseurs frequently confuse both varietals.
Description: These thick-skinned grapes produce wines with mouth-gripping tannins that are so powerful that they often leave the palate with a puckering sensation. The aroma is strong and encompasses earth, leather, smoke and cigar box tones. On the palate, the taste is smoke, spice, minerals and peppers. Due to the high levels of tannin that require long oak aging to soften, there is typically a lack of final fruit sensations in Petit Verdot.
Aging: Any wine with this much tannin has the potential to be aged for decades and therefore requires extensive time in new oak barrels. Given that the reason for blending it with other varietals is to add body and structure, wines that incorporate Petit Verdot will need more time to age and soften.
Best Location: As with most varieties, hot sunny days and cool nights are the best. It is typically grown in well drained, most stressed (least fertile) and shallow portions of the vineyard soils. This forces the grape to fight for needed minerals and in the process capture its unique flavor characteristics.
Planting: The grapes were planted with northern and eastern exposures. These aspects provide the benefit of a cool-down period from the intense summer heat. These cooler temperatures allow for the "grapes to rest" and not deplete the vines of their acids and flavor compounds through avoiding over-respiration.
Food Pairings: Due to the very high levels of tannin in the wine, Petit Verdot should be consumed only with the heartiest and most robust red meats and aged cheeses.