---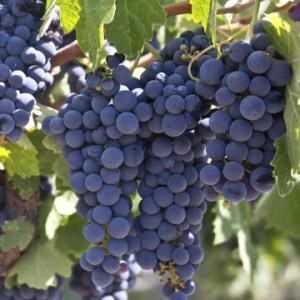 Type of Wine: Medium bodied red with high acidity and moderate tannins.
Origin: Sangiovese roughly translates from Latin as " Sanguis Jovis" or "Blood of Jove". Jove, known more widely as Jupiter, was the Supreme God in Roman mythology. It is the principal grape grown in Tuscany. Three clones of Sangiovese are the most sought after. The first clone, Sangioveto or Grosso is used for Chianti. The second clone, Brunello is used to make Brunello and Rosso di Montalcino. The third, Prugnolo, is used for Vino Nobile di Montepulciano wines. When Sangiovese is blended with Cabernet Sauvignon, and to a lesser extent Merlot or Syrah, a "Super-Tuscan" wine is created.
Color: Sangiovese is a wine that is rarely very dark in color. Its youthful purple-red color turns to a brick color around the rim after four or five years of aging.
Description: These thin-skinned grapes yield wines with bright aromas and flavors of black cherries, red plums, and blueberries with nuances of violets and cinnamon. Over time, the aroma fades though the depth and range of the taste on the palate will increase.
Aging: Sangiovese is best consumed within two to four years of its vintage (year of harvest). The vintner must take great care when blending Sangiovese as its own unique character can be easily overwhelmed by other varieties or excessive oak extraction.
Best Location: Sangiovese will thrive in sunny and hot vineyards, like those found along the hills of Tuscany. It will respond to individual terroir and thereby exhibit various expressions of itself.
Planting: The grapes were planted with northern and eastern exposures. These aspects provide the benefit of a cool-down period from the intense summer heat. These cooler temperatures allow for the "grapes to rest" and not deplete the vines of their acids and flavor compounds through avoiding over-respiration. Given the delicacy of Sangiovese, this placement is especially important.
Food Pairings: A bottle of Chianti with a plate of spaghetti may be a well-recognized icon, but it does not quite represent the best match-up, as the acidities of the wine and the tomato can often clash. More traditionally, Sangiovese wines are best matched to red meats, wild game, and vegetables that are roasted or grilled with olive oil, herbs, and garlic.