---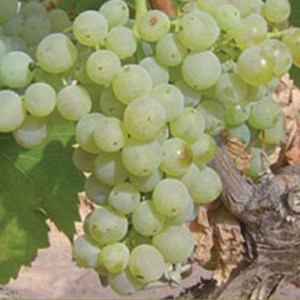 Type of Wine: Medium-bodied white with moderate acidity and low tannins.
Origin: Vermentino can be found under fairly intensive cultivation in nearly all the Southern Mediterranean coastal districts from Spain to Liguria and on the two major islands semi-enclosed by that arc, Corsica and more famously, Sardinia. It is also grown in small areas on the island of Madeira and at some places in southern France. Vermentino is clearly Spanish in origin. It seems to have traveled from Spain to Corsica in the 14th century and from there went on to Liguria. Its appearance on Sardinia was fairly recent, the final decades of the last century, and it was first planted in the Gallura at the island's northernmost tip. Vermentino is without question Southern Italy's premier white wine.
Color: Vermentino can range from paper white to a tenuous straw yellow in color with light greenish reflections.
Description: Vermentino shows a clean, mineral nose featuring peppered citrus and pear. Flavors of green apple and lime are heightened by refreshing acidity, good richness with little to no evidence of oak and a wonderfully lingering finish.
Aging: This is a wine that can benefit from barrel aging but reaches its peak of flavors with extended fermentation on the lees of the grapes.
Best Location: As with most varietals, warm days followed by cool nights build acidity and round fruit flavors.
Planting: The grapes were planted with a northern exposure. This aspect provides the benefit of a cool-down period from the intense summer heat. These cooler temperatures allow for the "grapes to rest" and not deplete the vines of their acids and flavor compounds through avoiding over-respiration.
Food Pairings: Almost any seafood goes well as one would expect from any grape that hails from the island of Corsica. Also, pasta dishes that use Pesto pair well with Vermentino.