February 15, 2018 |
Raffaldini Vineyards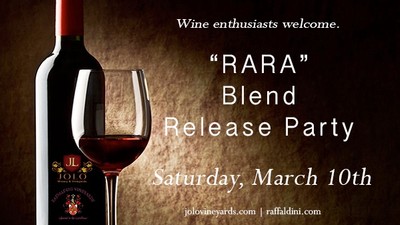 Award Winning Yadkin Valley Winemakers Collaborate on On Second Red Wine Blend Offering
Pilot Mountain and Ronda, N.C., February 15, 2018 – On Saturday, March 10, 2018, JOLO Winery & Vineyards and Raffaldini Vineyards will host back-to-back special release events for their second red wine blend collaboration, RARA Sisboombah.
The wine is a collaboration among longtime friends, JW Ray and Jay Raffaldini. Both men are dedicated to producing higher quality wines and serve as passionate advocates for the growth potential of the Yadkin Valley wine region.

"My great friend JW is a quintessential winemaker of unsurpassed skill, Owner Jay Raffaldini, said. "I'm excited to once again create a wine that represents our shared passion and the many years of dedication to our craft."
This year's RARA Sisboombah was produced by blending JOLO's 2016 Crimson Creek "Reserve" with the 2016 Raffaldini Montepulciano Riserva. The inaugural offering sold out in less than three days.

"My reverence for Jay for bringing old world wine techniques to this region to massage the European varietal characteristics out of North Carolina grapes cannot be overstated." JOLO founder JW Ray said. "The entire Raffaldini team continues to raise the bar for all of us. Jay is a true visionary and an inspiration. I'm very fortunate to call him a great friend. I couldn't be more excited about this 2nd bottling of this world-class wine."
Raffaldini and Ray will co-host two gatherings on Saturday, March 10th, where they will share their winemaking stories over light refreshments. The first event will take place at Raffaldini Vineyards beginning at noon. Reservations can be made by clicking here. The second gathering will begin at approximately 2:30 p.m. at JOLO Winery & Vineyards. This event is open to the public.
A very limited number of bottles will be available for sale at JOLO and Raffaldini Vineyards while supplies last. Bottles are priced at $40.

About JOLO Winery & Vineyards
JOLO Winery & Vineyards is an award-winning, family-owned, boutique winery in the picturesque Yadkin Valley AVA in Pilot Mountain. We produce extraordinary wines that reflect the terroir, including the 2016 Pilot Fog, a recent platinum medal award winner at the 2018 International Winemaker Challenge Wine Competition. JOLO is open for wine tastings most Thursdays through Sundays and we pour at many local wine tasting events throughout the year. Wines are available for purchase at the winery, on the website, and at selected retail locations.

About Raffaldini Vineyards
Known as "Chianti in the Carolinas" Raffaldini currently produces North Carolina's highest-rated red wine, Sangiovese, and other varieties including Vermentino, Pinot Grigio, and Montepulciano. Raffaldini hosts public and private events throughout the year. Please visit our website, www.raffaldini.com, call 336.835.9463 or email info@raffaldini.com for more information.