September 10, 2020 |
Raffaldini Vineyards
Women in Wine: Barbara Raffaldini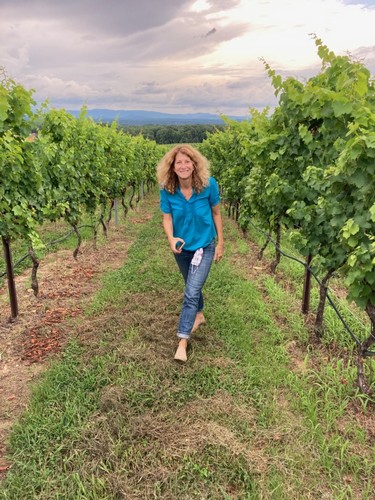 by: Jennifer Primrose and Dathan Kazsuk for the Wilkesboro Tourism Development Authority
From law school and culinary classes to travel and running day-to-day operations at one of North Carolina's most successful wineries, Barbara Raffaldini is one of the state's trendsetters when it comes to its successful wine industry.
She's quick to admit that Raffaldini Vineyards & Winery in Ronda is her brother's brainchild, but she's also very attentive about all the time and energy she devotes to the winery. Working 3 to 4 days a week at the vineyard, which also includes weekly visits to Costco for supplies, Raffaldini's jobs include, but not limited to, being general counsel, handling HR matters, maintaining the books and records and acting as general manager.
"I've also helped with planting some of the 12,000 new vines this year," she says. She will also be helping at harvest.
But where did it all start for Barbara? How did she wind up in North Carolina, partnering up with her older brother in the winery business?
While her brother, Jay, spent his entire career working in New York, Barbara is proud to call herself a mid-westerner. "When I was 9 and he was 10, we moved to a suburb of Chicago," Raffaldini says. There the two went to the school until the graduated from high school, and then when it was time for college, Raffaldini left for the east to attend Georgetown University. She graduated cum laude with a B.S. from the School of Foreign Service as well as her J.D. from Georgetown University Law Center.
After she graduated, she practiced law in Washington, D.C. for two years, then moved back to Illinois to practice law and where she eventually became a partner in the law firm Pachter, Gregory & Raffaldini until she eventually made the move to North Carolina in January 2015.
"Jay and Maureen (his wife) moved to North Carolina in 2008," she says. "I would come and visit and spend time at the vineyard and then go home to Chicago to work on vineyard matters remotely." Eventually, Raffaldini came to the conclusion that it would be best for her to do her legal work long distance. "My clients didn't care where I was, and my law partners were fantastic and supportive, and so I became our firm's North Carolina office.' I'm still am part of our Illinois law firm, I just work remotely." Which has been the name of the game since the Covid-19 pandemic hit the states in March of 2020.
One might think working alongside a sibling in a business might not be the best option, but Raffaldini sees only the positive side. "It's a wonderful thing to be in business with a sibling. We're really different and can appreciate each other's strengths. There's only been a few times we've wanted to hit each other over the head," she says. Just look at other wine family greats such as the Gallo's or Mondavi's … "Yeah, they are successful, but they all hated each other," Raffaldini quips.

LENDING A HELPING HAND
When Raffaldini isn't at the winery, she enjoys devoting time to nonprofit organizations such as Bookmarks. The Winston-Salem organization began in 2005, and helps bring together readers and authors from all around the world. Raffaldini started out volunteering, and currently is the board president of Bookmarks, whose tag line is Books with a Purpose. "We are just finishing up an amazing program called "Book Build. Bookmarks by this fall will have infused over 25,000 books into local school libraries," she says.
Raffaldini is also on the board of the Piedmont Opera, another nonprofit organization in Winston-Salem that puts on two opera performances a year. In the past, the opera presented performances such as "The Pirates of Penzance", "Silent Night" and "The Elixir of Love."
Even at the winery, the philanthropic roots go deep. Raffaldini Vineyards has also supported local animal rescues by donating proceeds of its special Pino Vino, which for 10 years featured a shelter dog on its label. Raffaldini Vineyards also supports the 2nd Harvest Food Bank and donates wine for its fundraisers.
Taking part in these nonprofits can always tug at heartstrings, but they can also lead to some amazing dinner conversations while enjoying a glass of wine. Raffaldini's moment might be when Bookmarks launched an event for the debut of Frances Mayes' new book "See You in the Piazza." A fan of Mayes' best-selling book "Under the Tuscan Sun," Raffaldini got to meet Mayes and talked about how she took a group of 25 Raffaldini wine club members to Tuscany and Umbria, including a visit to Cortona with her travel agency, Behind the Vines Travel.
"In her last book, (Mayes) had a sentence recounting that Sagrantino wine is a favorite of her husband, Ed, and it is mainly grown in Umbria, in Montefalco. She then wrote that she heard a winery in North Carolina is growing Sagrantino grapes. So, when I met her, I said that winery is us, and gave her a bottle," Raffaldini says.

LOOKING TO THE FUTURE
On the drive to the winery's ornate Italian villa tasting room, you will one day see a new destination that will catch your eye. Raffaldini purchased 12 acres adjacent to the vineyard where she plans to erect a B&B and restaurant. While there's still a lot of work to be done, she knows exactly what she wants. "I want the feel to be simple. Clean lines, a two-story library filled with books as well as outdoor seating to gather while relaxing and drinking wine." With Swan Creek's group of wineries all within a short distance of one another, Raffaldini knows the area is in dire need of secondary businesses such as lodging, and a high-quality restaurant/B&B and that such businesses would really lead to more people from out of town staying a weekend.
A business plan is still in the works, architectural plans are being finalized and construction drawing and permits need to be obtained, but when complete, visitors to the Swan Creek AVA will feel like they're in wine country.
"Because of Covid-19, I think there will be a lot more people traveling near home to places they can rely on and trust. I think there is an opportunity to capture more business."